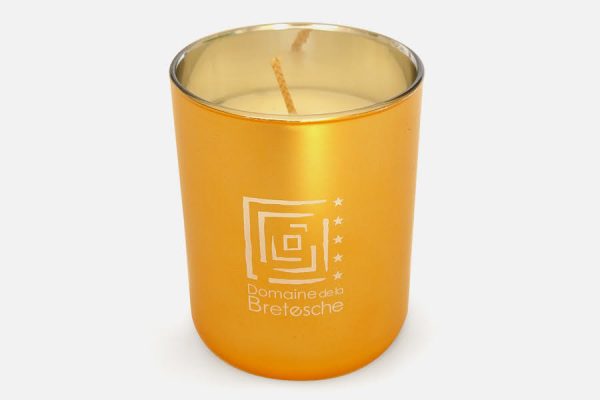 Scented candle in gold metal glass
We love this scented candle in gold metal glass, luxury private label candle, matte golden color outside and shiny silver color inside, handmade in Portugal.
This scented candle in gold metal glass is the perfect luxury golden candle to offer to your VIP customers. This custom candle has a matte golden color inside and shiny silver color inside. It can be personalized with a serigraphy of your logo on the glass content. This bespoke candle is available in 2 sizes 80g or 170g. They are made of 60% eco-friendly vegetable wax.  You can choose in a large range of fragrances. We can also produce an optional cardboard printed packaging. These luxury candles are high-quality and totally bespoke in our atelier in Portugal. Whether you need branded candles for a luxury hotels, promotional campaign, weddings, corporate event, or private label luxury candle manufacturing, we make perfect candles for every occasion!

Create your own signature luxury candles in 4 simple steps:

1 – choose the size: small (80g) or big (170g)
2 – customize your candle with one-colour serigraphy
3 – choose the fragrance
4 – choose an optional packaging: organza bag or customized cardboard box
Price:
around €5.15/1000 units for 170g candle without packaging
Product information:
Golden matt glass content with shiny silver paint inside
Fragrances: lavender, white musk, blossom white tea… etc
Eco-friendly: 60% vegetable candle
Optional packaging: customized cardboard box or organza bag
80g candle's size: Ø 7cm H6cm – 22/25h
170g candle's size: Ø 9cm H7,5cm – 28/30h
Minimum quantity: 100 units
Handmade in Portugal
More about why do scented candles make great gifts?
#goldenmetalscentedcandle#goldenmetalpromotionalcandle#goldenmetalprivatelabelcandles
#ecofriendlycandles#madeinportugalcandles#scentedcandle#goldenmetalpersonalizedcandles
#goldenmetalpersonalisedcandles#goldenmetalmadeinportugalcandles#goldenmetalbrandedcandles
#goldenmetalprintedcandles#goldenmetalsoywaxcandles#goldenmetalluxurycandles
#goldenmetalsignaturecandles