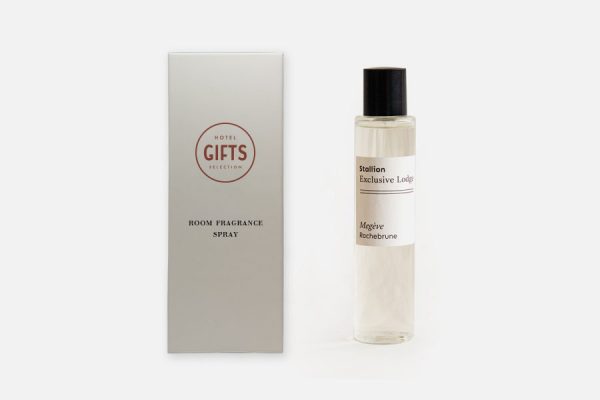 Custom room fragrance spray
We love this custom room fragrance that

will make your home smell great, create a signature scent for your home

, this spray is customizable with a printed label and a cardboard box, produced in Portugal.

This custom room fragrance spray will make your home smell great. With so many of us working, eating, studying and relaxing at home these days, who wouldn't want to take advantage of the power of scent? Scents have the power to remind us the good moments: smell of the clean linen, smell of the wood fire, smell of cakes… Spray two to three pumps throughout the immediate space and refresh as needed,  the aroma will last for several hours. This home spray comes in a lovely transparent glass bottle and is customizable with printed label. It also comes in a customizable packaging.  You can choose between a wide range of fragrances. This custom home fragrance will sublimate your interior and make the atmosphere cosy and warm. This interior scent is also an alternative to the scented candle, which is consumed and cannot remain lit for hours. This luxury room spray is produced in Portugal. Our scents are based on 3 scents' pyramid: top note (lemon), heart (geranium rose) and base note (rockrose). This custom room fragrance spray is an original wellness gift for hotels and luxury spas.

Customization:
5x5cm printed label – 4C printed packaging
Price:
around €12.25/500 units
Product information:
Home fragrance
Transparent glass bottle with black plastic cap
Wide range of fragrances: orange blossom, fresh linen, fresh verbena, woody leather, scent of the sea, fresh cut grass, green garden…
Capacity: 100ml
Packaging: 350gr white cardboard box with 4C printing
Minimum quantity: 100 units
Handmade in Portugal
#customroomfragrance #promotionalroomfragrance #personalizedroomfragrance #laberloomfragrance
#personalisedroomfragrance #brandedroomfragrance #customluxuryroomfragrance
#madeinportugalroomfragrancet#printedroomfragrance #corporateroomfragrance
#cutomhomefragrance